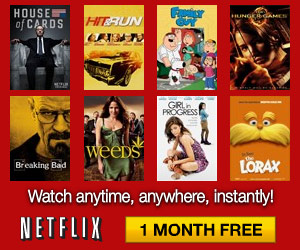 Sign up for a Free 30 Day Netflix Trial with no obligation.
Try Netflix for free for 30 days and get access to thousands of titles when you want them.  There are classic shows, made for TV movies and many others available.
If you choose to continue your membership after the 30 day trial, it's just $7.99 per month to keep your unlimited streaming access!
So Dough Savvy Tip:  You can share one Netflix account among several devices.  You can have it installed on your phone, tablet, computer and blu-ray player all at once!
{ 0 comments }